Musa Ibrahim- A Notredamian
The renowned people in the world are never different but they work differently. In fact, there are people who become the icon of a society or a Nation only by the dint of their strong will and continued effort and Musa Ibrahim, a Notre-damian  and Life Member of our Society (NSSB), is also not an exception. He has been the first Bangladeshi and the first Bengali on Earth to conquer the mighty Himalayas and its highest peak – Mt. Everest. Undoubtedly, his dauntless endeavor is a lesson to us and his achievement is the Pride for our Nation.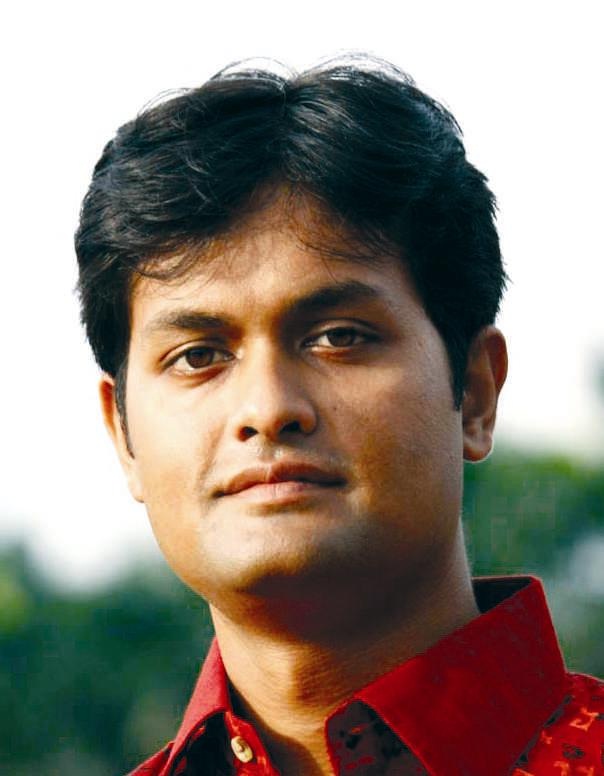 We never knew, the slim cute boy, a Science student of Notre Dame College in 1994 (Roll # 964049) of  Group IV, would become so eminent to coin his name in World history as well as the history of the county. In fact, we never know what talents are subsided within each and every student, exposed at times as they get ways and means to show it. So, we, at Notre Dame, very consciously handle each and every student, so that they can cite such examples and become capable leaders in the society taking  bigger responsibilities like this.
Notre DameCollege was established in 1949 as St. Gregory's College, at Luxmibazar, Dhaka, and soon was shifted to its present location at Motijheel in 1954 and was renamed as  Notre Dame College. Notre Dame is a French word meaning `Our Lady', pertaining to Mother Merry, the mother of Jesus Christ, whom Catholic Christians hold in high esteem. So, the college and its activities are dedicated to her as her response to God's initiative was: "Let it be done according to Your Word". So, Notre Dame College is dedicated to the God's will. The first corner stone was placed with his blessings by Cardinal Valerian Gracias on January 17, 1954. In the first prospectus of the college issued in May, 1950 the aims and ideals were coined in these few words, "The principal aim of St. Gregory's (Notre Dame) College is not only to teach how to make a living but also how to live. The development of the whole man by adequate training of the physical, moral and intellectual powers of the students is deemed a sacred trust at St. Gregory's (Notre Dame). Every effort is made to form the students into gentlemen and scholars." So, Notre Dame continues is journey in building able citizens of the society and our Musa Ibrahim is one of those whom it has tried to create like his predecessors – Prof. Serajul Islam Chowdhury (DU), Late Prof. Ghyasuddin Ahmed (DU, Martyred in 1971), his younger brother Prof. Rashiduddin Ahmed (eminent Neuro-Surgeon), Dr. Kamal Hossain and Tanvir Siddique (both classmates and later cabinet ministers), Justice Mainur Reza Chowdhury and many more.
Notre Dame started with the founder Principal Fr. John Harrington, CSC (1949-'54). He was succeeded by Fr. James Martin, CSC (1954-'60). Later there were Fr. T. A. Ganguly, CSC, Fr. Willium Graham, CSC, Fr. Vanden Bossche, CSC, Fr. R. W. Timm, CSC, Fr. A. Wheeler, CSC, Fr. J. S. Peixotto, CSC and Fr. Benjamin Costa, CSC. The present Principal is Fr. Dr. Hemanta Pius Rozario, CSC. All the Principals and teachers were Holy Cross fathers during the beginning but later lay teachers from outside were added to faculty and I am one of those fortunate ones. I started on Ausust 8, 1983 and am still continuing in the Dept. of Biology. Musa was my student in his tenure 1994-1996. At that time the Principal was Fr. J. S. Peixotto, CSC (1976-March, 1998), whose tenure has been the longest, so far.
At Notre Dame we love our students just like our children and try to develop them in various ways according to their mental inclinations. We have 19 clubs here all operational and working out with many students for their own specific targets in different ways through their regular or occasional activities. Many of those were established by fathers and some by others – but all of those are closely monitored by the college authority. At Notre Dame we have Debating Club (1953), Science Club (1955), Adventure Club (1966) – all started by renowned scientist Fr. R. W. Timm, CSC, Ph.D. We have also College Rover Group (1972), Business Club (1973), Chess Club (1984), Humanitarian Club (1984), Nature Study Club (1984), Degree Club (1986), Youth Red Crescent Club (1986), Rotaract Club (1990), Drama Group (1991), Recitation Club (1992), History Club (1992), Environmental Promotion Club (1992), International Understanding and Relation Club (1993), Cultural Group (1996), Writers' Forum (2001) and English Club (2005). I established Notre Dame Nature Study Club on August 29,1984 from where later  we (Life Members of the club and I myself) founded NSSB, the society which we registered on Jan. 13, 2004 (Reg. no. S-3543(332)/2004); Mr. Biplob Kumer Dev, a faculty of Chemistry of Notre Dame and an year-mate of Musa Ibrahim (1994-'96), is now the director of Notre Dame Nature Study Club. Musa was not a member of our club or Notre Dame Adventure Club that time, but was a member of Notre Dame Chess Club. He developed his pursuits of climbing hills and mountains through training with a group, after he had passed out from here. Musa Ibrahim has been a Life Member of our Nature Study Society of Bangladesh (NSSB), a national nature study and conservation NGO developed from Notre Dame Nature Study Club and housed at Motijeel (7, Inner Circular Road, Motijheel, Dhaka).
Thanks to Musa Ibrahim, the Everest-man of Bangladesh, for building such a wonderful carrier. He has worked so hard and tireless – beyond our imagination. He started his mountaineering in 2000 with Mr. Enam Talukder at Kewcradong Hill (3172 ft.) in Bangladesh. He continued with Mr. Talukder crossing Annapurna Trail in 2002. Then he extended his training with Himalayan Mountaineering Institute, Darjeeling, India for a one month Basic Course. He promoted his course again taking another one month Advanced Training in the same institute in 2005, from when he started expeditions in Nepal and India. On October 29, 2007 he established a Club on mountaineering – the North Alpine Club, Bangladesh, the third of its kind in the country. The main slogan of the club was  'Mission 2010 – Vision Everest'; that meant that they wanted to conquer the Mt.Everest within 2010. The official address of the club is – 19, Green Road, Dhaka-1215. Musa Ibrahim is the founder and is still the General Secretary of the club. So, thanks to Musa again for founding such a dynamic club.
But, Musa Ibrahim did not stop there; he launched adventures one after another for achieving his ultimate goal that has been nurished within his heart for years since his boyhood when he saw along with his father the Kanchanjangha from Jagaddal Bazar of Panchagarh, as he was a student of Class-V. So, Musa launched his final series of expeditions from 2008 through his club. He explored the Longsisha Re (20,700 ft) in 2008 and later the Annapurna-4 (24,682 ft) in 2009, both in Nepal. After that his long-cherished goal was pending – the Mt.Everest. He started collecting the huge amount of fund  (46,00,000/-) needed for his goal. Primarily, it seemed tough to collect, but there has been nothing impossible to a strong will. The editor of Prothom Alo, Mr. Matiur Rahman and the director of Chnnel-I Mr. Faridur Reza Sagar (another Notre-damian) supported him with one fourth of it; rest of the fund was borrowed from his sister, Mrs. Noor Ayesha, who is with the UN at its New York office. So, in this way, all the obstacles were overcome but only the last goal. 
So, Musa started for his ultimate target on April 8, 2010 from Dhaka to Katmundu and then on April 10 to Tibbet. They explored the Mt.Everest from the North Face of Tibbet. Then the long cherished climex came to his life.  The date and time of May 23, 2010, 5:05 am. BD time, has become a red letter day and time in the history of our country as on that day and time Musa conquered the Mt. Everest, the highest peak of the Earth. After a continued long staggering with ice, cold, altitude and air pressure – this very moment made him renowned to Bangladesh and remarkable to the World. He was so excited and delighted to say – 'This is second to none', but he was so polite to say that the achievement was not of his own but of all the 16 Crore people of the country. He was the first man to hoist the flag of  our country on Mt.Everest at 5:16 am (BD time). So, in this way Musa by dint of his continued perseverence and strong will not only brought this unparrel honour to the country but also filled up a long enduring gap in the country's history.
So, long live Musa Ibrahim and his followers who will follow his pathway to make Bangladesh glorious in the world history. We know, this is Musa's achievement, brain child of his long lasting and painstaking endeavour – but, we should all bear in mind that, he has done it for us – the Nation, and so he is our Ntional Hero, a National icon of us. This is only for him we can boldly say today, we are no less than other countries who has seen the Mt. Everest.
We want more Musa Ibrahims among us in future Bangladesh. Thank you.
Ref.-
The Spirit of Notre Dame : A History of Notre Dame College, Dhaka, Bangladesh (1949-2000);




– Fr. C. P. Gillespie, CSC and Fr. J. S. Peixotto, CSC


Provincial House, 28, Zindabahar Lane, Dhaka-1100

Nishorga – The Annual Magazine of Notre Dame Nature Study Club, 26th Anniversary Edition.


Notre Dame College, Dhaka-1000
Orientation Prospectus of Notre Dame College, Dhaka.